The Future FM Facility Management Corporation provides full-ranging facility management services as one in 100% Hungarian-owned, all over the country. Since 1991 the scope of activity has gradually increased in accordance with the changing demand of the market and our customers. By now our company has become a major participant in the facility management and - owing to our subsidiary, Future Security Service Kft. - the security market. The youngest business unit in our company group, the fleet management service is provided by Future Fleet Kft.
The full range of services in relation with the real estates, outdoor areas and equipment management is provided integrated and covered almost fully by the company group. Any of the elements of the complete system provides a competitive solution individually, too.
We are proud of our results: during the last 25 years, we have built a stable group. We have proved in the fields of our services that the market recognises quality and fairness. We have created a contact-oriented team, which encourages creativity. We have created new values, and have preserved those which were entrusted to us.
Company history
Our company has continuously extended its scope of activities since 1991 adapting to the changing market and customer needs, and has become a significant player on the Hungarian
facility management
and security market.
National network
Our services are offered through our national network. While building and developing the national network, we took into account the expansion plans of our present customers, development trends of the various fields of economy, as well as the system of regions established in accordance with EU recommendations.
Our regional centres co-ordinate the various business lines and services, provide managers infrastructure and resources, and develop business relations with the enterprises operating in the regions.
Our company can satisfy any facility management and related information and administration needs of customers having a nation-wide network too.
Awards and recognitions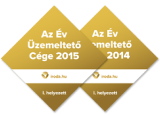 Az év üzemeltető cége 2015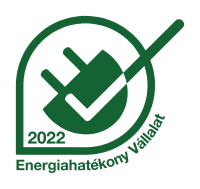 Energiahatékony Vállalat

Zöld takarítás védjegy